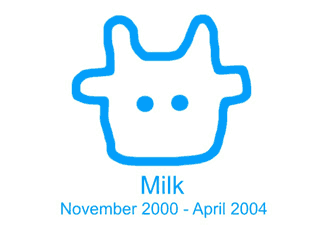 Yes, the rumours are true - London's
longest running afterparty
is no more (sob). All of us at Milk will miss it terribly but we've had a
fantastic time
running the party and it's affected all of us in so many ways.
At this stage we have
no plans
for any further parties, although anything is possible.
Anyway, it goes without saying that we are all
immensely grateful
to you for your support and encouragement over the last few years, and we really do hope you've
had as much fun
out of it as we most definitely have. We feel we've made our little
mark on history
and had our
15 minutes of fame
, and now it's time to step aside and give somebody else their chance.
Love, hugs & Milky vibes all round
- Piers and all at milk
---

Don't forget Milk's after party -
hUJe
. This party is run by the lovely people who did the rather fab looking backdrops for Milk, is a lot of fun, and runs every Saturday afternoon at Mass in Brixton.
---