milky roots ...How it all started


Milk was started by Piers and Paul in November 2000 as a cosy little afterparty for Submaniac and Surge and basically grew from a series of house parties and post-clubbing chillouts.
We started out at Imperial Gardens in Camberwell, taking over one room when Submaniac finished. In March 2000 they moved to Crash but we decided to stay at Imperial as we liked it there, and at the same time we took the decision to go twice-monthly.
Imperial Gardens is great for afterparties in that it has a very relaxed atmosphere which suited us, but it soon became clear that we needed more space, and a location that was easier for people to get to at that time of the morning. So, on the 21st July 2001 we moved to our new home, the brilliant Club 414 in Brixton. We also decided to go weekly as we just can't get enough...

The 414 is one of London's best little venues and has developed a great reputation over the years thanks to it's handy location, intimate feel, and excellent sound and lights. It plays host to loads of other great parties including Defcon 1, Just Groove, KnowWhere, Mesmerize, Nuclear Free Zone, Submaniac, Swamp, Totally Twisted and Zoology.

It's the ideal afterparty venue as it has a fab upstairs chillout room (reached by a twisty-turny spiral staircase) where you can lounge around watching the giant video screen or friendly fish in their tank. There's also a snack bar serving hot and cold drinks, crisps, sweets, fruit, and Pot Noodles. Yum! Then, when you've recovered your energy, you can tumble back downstairs and immerse yourself in the full-on atmosphere thanks to the superb sound and lights, including a shiny green laser.
From day to night
We've also run several all-night events, partly to bring our Milky sound to a wider audience, but also for the flexibility of using a larger venue with more rooms to allow us to be even more experimental with our music policy.
For our first such event we decided to team up with the Barely Legal crew who have built up a great reputation for themselves over the last year or so. They started by doing a series of squat parties in south London, then moved on to licensed venues such as the Medussa Club in Brixton and the Viaduct in Vauxhall with their monthly event, Intergrate.
We held Milk vs Barely Legal at our old home of Imperial Gardens on Friday 17th May 2002. Having 3 rooms allowed us to be really experimental with our music policy, with techno-trance in the main room, hardhouse in the second, and ambient breaks, beats and drum and bass in the third.

We enjoyed the night so much that we decided to run a monthly event. Our first two parties, in July and August 2001, were at Crash in Vauxhall and proved to be a great success, with loads of our Milk regulars coming along to join in the fun. We stuck to our hard uplifting Milky formula in the main room, with the second room being more varied music including ambient techno, funky house, trance and breaks'n'beats.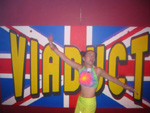 However, we soon felt that Crash wasn't quite the right venue for us and decided to move to the Viaduct, just round the corner in Vauxhall. This is a similar size with a large main room and smaller second room, both with excellent sound and lights, plus a couple of separate chillout rooms. It's recently been refurbished and fitted with air-conditioning, new sound-system and toilets but still retains a cosy underground feel, rather like a bigger version of the 414.
We ran four parties there between September and December 2002 which were great fun and allowed us to achieve our aim of trying out different things. For example, in September we asked the Ignition Crew to host our second room for the whole night with their mix of funky and tech house, breaks and beats. This made a great contrast to the harder sounds in the main room. The Viaduct also saw Milky history in the making when D'Marr Ford played a marathon 8 hour set - that's the whole night - in the second room. He was still remarkably fresh at the end of it all so we're just waiting for him to ask for 12 hours next!
We've now decided to give the night-time events a rest for a while, partly because the clubbing scene is traditionally quiet over the next couple of months, but also to allow us to concentrate on the afterparty. This has been going from strength to strength and we fully intend to build on this to take it to even greater heights over the coming months. Once we've done that we hope to restart the night-time events, so keep an eye on the website for details.
Music policy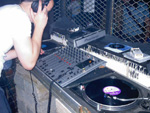 The most important things to us at Milk are the quality of the music, and the attitude of the crowd. We seem to have built up a pretty good track record on both counts so far and intend to carry on with the good work.
Musically we try to keep it fresh, and play anything from trance to hardhouse to techno, ranging from 120-180bpm or more. You can find our more about our djs on the djs page.
Our basic formula is to start the day on a funky tip to ease you back into the swing of things, but you'll soon notice us cranking up the pace. By mid-morning things are usually pretty hard'n'fast and you'll be working up a sweat in no time. Finally we take it uplifting to send you home with a smile and a bounce.
However, we like a bit of variety and you'll find it slightly different each time you come. Some days we'll start trancey before banging out the hardhouse, other times we might take it into some funky techno for a while before whisking you off into some real dark twisted stuff that'll leave you reeling. Or we might start hard and just relentlessly keep on getting harder all morning, daring you to stay the course...
Attitude free zone
The music may be what we're all there for, but the other vital ingredient in any party is the people. Over the last 2 years we've built our reputation on the friendly crowd we attract and that is something we pride ourselves on and intend to maintain.
You'll find a great mix of people at our parties and all we ask for is tolerance. We want everyone to feel welcome and free to enjoy themselves without any kind of ill-feeling.
We've also got a great relationship with the staff and security, who are all there to help you have a good time. If you ever have a problem of any kind then please come and find one of the crew or venue staff and we'll sort it out for you.

We must be doing something right as Milk was recently voted one of London's top 3 promotions by HarderFaster, one of London's leading clubbing websites.
We'd like to thank everyone who voted for us and highly recommend the site for all your clubbing needs. They've got loads of stuff including listings, photos, interviews and reviews, and a very lively message forum frequented by many of the Milk crew. Check out the website by clicking on the logo above, or click here for the full 2002 annual poll results.